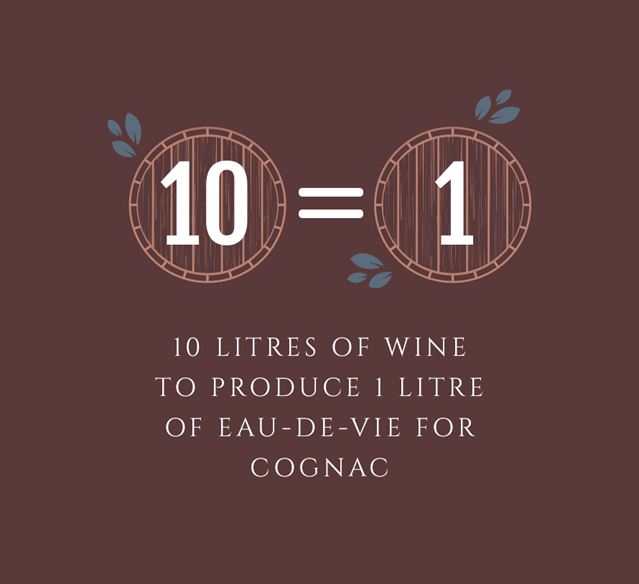 The Cognac region lies west of the Massif Central and north of Bordeaux. Through its centre runs the Charente river, on the banks of which you will find the picturesque communes of Cognac and Jarnac.The entire area benefits from vast deposits of chalk soil and a cool maritime climate that are ideal for growing particular varieties of white grape. The sort of grapes that make acidic wines that really want to be distilled. Since the 17th century, the region's oak aged wine spirits – or brandies, if you prefer – have been celebrated around the world for their unique quality and character.
Right now, in Cognac there are over four-thousand growers tending 76,000 hectares of vines over six geologically distinct sub-regions, or 'crus'. Their efforts are largely dedicated to cultivating the Ugni Blanc grape variety, which got there by way of Italy where it's better known as Trebbiano. The viticulteurs of the Charente use this grape to make pale, fresh, low-ABV wine that isn't all that good for the table, but which really comes into its own when heated to 78.3 degrees centigrade during distillation. It's passed twice through a traditional copper pot still called an alambic Charentais – once to produce a hazy liquid called 'brouillis' and once again to make clear and aromatic spirit called 'bonne Chauffe'. This clear spirit, which runs off the condenser at a tasty 70% ABV, is also known as 'eau–de-vie' – the water of life.
The eau-de-vie is then filled into barrels made from native French oak, cut in the forests of the Limousin or the Tronçais, after which it is stored in cellars while it undergoes evaporation, reduction, concentration, oxidation and all sorts of other processes, as well as absorbing various flavour compounds from the oak itself. After two years, the eau-de-vie has ascended to full Cognac status and is recognised as such under the law. However, many Cognacs are aged for much longer than this. In fact, some eau-de-vie are thought to keep improving for many decades, reaching their absolute peak after a century or more in the cellar.
Cognac will have distinct characteristics representing the provenance of the grapes used to make it, the cellars it was matured in, and the type of oak used in its maturation. The blenders of Cognac, known at home as 'cellar masters', create combinations of different eau–de-vie in pursuit of balance, consistency, and general deliciousness. As part of this process they will often use distilled water or old, under-proof eau de vie, to bring their creations down to a palatable alcohol content of around 40%. After this, all that remains is to bottle the finished article and send it out to you.