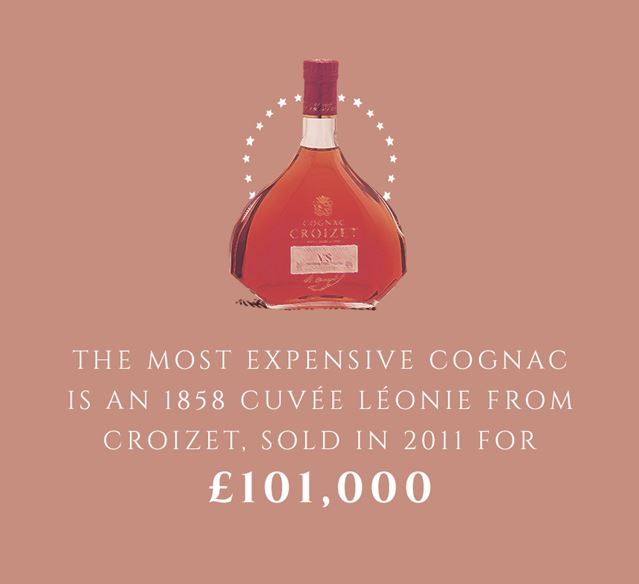 These profiles also work for Calvados and Armagnac: remember that in general terms Calvados will have much more of the fresh fruit and floral notes, and Armagnac the savoury, spicy, dried fruit characters.
The good news is that there is a style for everyone!
Ripe fruit: peach, apricot, baked apple, pear, mandarin
These flavours tend to dominate in young cognacs like VS and VSOP's. The base spirit here will be more dominant than the woody notes.
ABK6 VSOP
Fruity and fresh, with notes of vanilla, dried fruits, fresh apples, brioche, cinnamon and cocoa.
H by Hine
A vibrant Fine Champagne VSOP rich in apricot, floral and spice notes. Great for cocktails.
Chateau Beaulon VSOP
Single estate Cognac distilled solely from Folle Blanche. Candied orange, raisin and geranium notes.

Laballe Armagnac Resistance
Made with phylloxera-resistant Baco grapes. Notes of apple, soft smoke, citrus and hints of salty liquorice.

Floral: jasmine, white flowers, yellow flowers, violets, potpourri, herbal
These characters are again more prominent in younger Cognacs and those where oak is not too powerful. Fresher florals are inevitable in VS styles but dried florals and herbal notes can be one sign of a Cognac that has a dominance of Borderies in the blend, although not a guarantee.
Ferrand Ambre
Roses, violets, fruits and caramel abound in this Grande Champagne Cognac.
Delamain XO
A blend of long-aged XO Cognacs which offers notes of honeysuckle in its smooth and rounded palate.
Camus VSOP Borderies
Elegant and floral limited edition with notes of milk chocolate, orange and hints of spice.
Père Magloire VSOP
Fresh apple-blossom notes abound in this VSOP Calvados made by a family-run house.
Spices and dried fruit; cinnamon, nutmeg, mixed spice, raisin, peel, dried apricot
These characters start to come through with age as the wood starts to influence the spirit more and more. They are seen mainly in in Napoleon and XO styles.
Vallein Tercinier Nepoleon
A 15-year-old Cognac with subtle aromas of lime blossom, toasty spice, vanilla and apricots.
Hardy Noces d'Argent
Blended from 30 Grand Champagne eaux-de-vie with an average age of 25 years. Rich, sweet and spicy.
Braastard XO
Aromas of leather, oak and truffles, complemented by notes of hazelnuts and apricots throughout the palate.
Christian Drouhin Hor's d'Age
Complex yet balanced, this has notes of stewed apples and delicate wood spice and is great with cigars.
Savoury notes: cedar wood, dried leaves, rancio, leather, tobacco, nutty
Here the notes are coming mostly from the wood and the age of the spirit. Very old Cognacs often exhibit these characteristics, but also those where the oak used is younger and more dominant.
Rémy Martin XO
A smooth, rich and award-winning Fine Champagne XO in the distinctive Rémy bottle.
A.E Dor No.6
Prestigious long-aged Grande Champagne Cognac, available with engraving from The Whisky Exchange.
Sazerac de Forge
Distilled from old and rare grapes native to the Cognac region, using traditional stills.
Darroze 20 Year Old
Full-bodied blended Bas Armagnac from Darroze, bottled as part of their Grands Assemblages range.