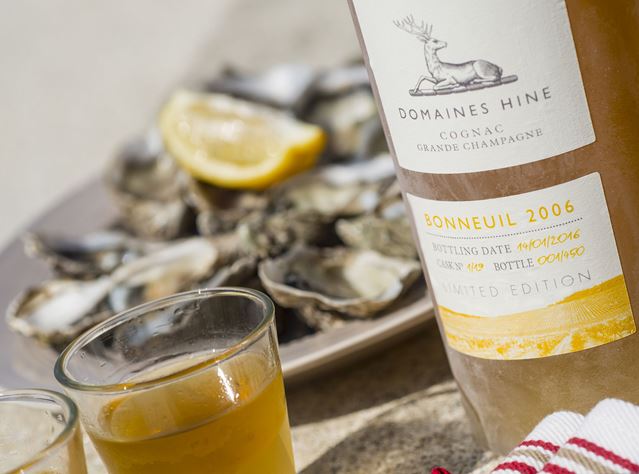 Created in 1763, Hine is armed with more 250 years of attention to detail from the early work in the vineyards to the art of blending the finest eaux-de-vie.
Hine owns 115 hectares of vineyards in the heart of the appellation's two finest crus, the Grande and Petite Champagne. A team of 30 dedicated persons ensures the uncompromising longevity of one of the world's most praised cognac house, independent and family-owned.
Hine has always been acclaimed by connoisseurs and sommeliers for being the specialist of single vintage cognacs. In its cellar in Jarnac, Hine preserves an unparalleled collection of demi-johns dating back to the 1850s. Since 1962, Hine is the sole official supplier of cognac to Her Majesty Queen Elizabeth II. In 1867, the House took the recumbent stag as its official emblem, rooted to the French soil, turning its head in the direction of England; a stag who keeps its wandering past firmly in its sights, remembering when young Thomas Hine crossed the Channel to first set foot on a land he then called home.
Mastering the liquid forms of time. Every batch imprints its identity while our cellar master Eric Forget ensures 258 years of Hine heritage, one eau-de-vie at a time. The vineyard is the essential foundation of Hine's commitment to excellence, since a great cognac is first and foremost a great white wine. Hine owns 115 hectares of vines in the heart of the appellation's two finest crus: 105 in Grande Champagne and 10 in Petite Champagne. In 2019, Hine was awarded both the Certification Environnementale Cognac and the Haute Valeur Environnementale (HVE) label as a pioneering estate, which recognise its sustainable agricultural and viticultural commitments.
More than ever, Hine is involved in the preservation of the plant heritage of its properties with the implementation of massal selection, a technique that protects the genetic diversity of the vineyard. This diversity is a qualitative lever and a guarantee of durability for the plant material of Domaines Hine.