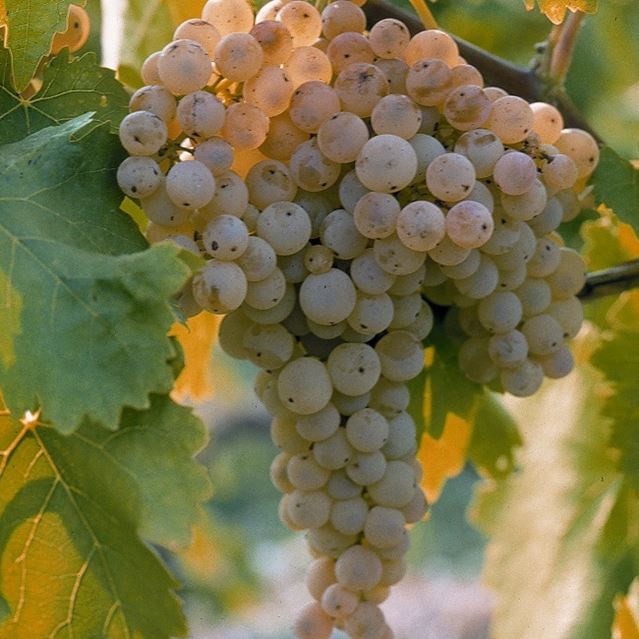 What about the grapes themselves? Well, there are eight grape varieties allowed in the Cognac region, but three stand out. The most popular by far is Ugni Blanc, one of the most-planted white grape varieties in France (you may have come across it in its Italian guise, Trebbiano).
Grapes destined for eau-de-vie are picked earlier than normal to keep ripeness (and therefore alcohol levels) down. Cognac producers are after something neutral and light, not a power-packed fruit bomb. If you used Chardonnay or Sauvignon Blanc and picked the grapes at full ripeness, the finished Cognac would not taste good!
In the Cognac region itself, Ugni Blanc is often referred to as 'St-Emilion' – a rather confusing name, given that it has nothing to do with the much-heralded Bordeaux wine region 50 miles further south.
The other two grape varieties used in Cognac are Colombard (again, something of a workhorse variety when made into table wine), and Folle Blanche. Many say that Folle Blanche is the ultimate Cognac grape, but unfortunately it is highly susceptible to phylloxera, an aphid that feeds on vine roots causing huge damage (it virtually wiped out French vineyards in the late 19th century). Because of that, its use has declined, although Folle Blanche Cognacs still exist.
There are five remaining permitted grape varieties in Cognac, but these are very rarely used. They are Jurançon, Belzac Blanc, Blanc Ramé, Bouilleaux and Chalosse. There are around 6,000 grape growers in the Cognac region, many of whom supply the big Cognac houses (with wine as well as eau-de-vie). The grapes are always harvested in the autumn (usually October), and are turned into a wine with an alcohol level of about 9% abv.