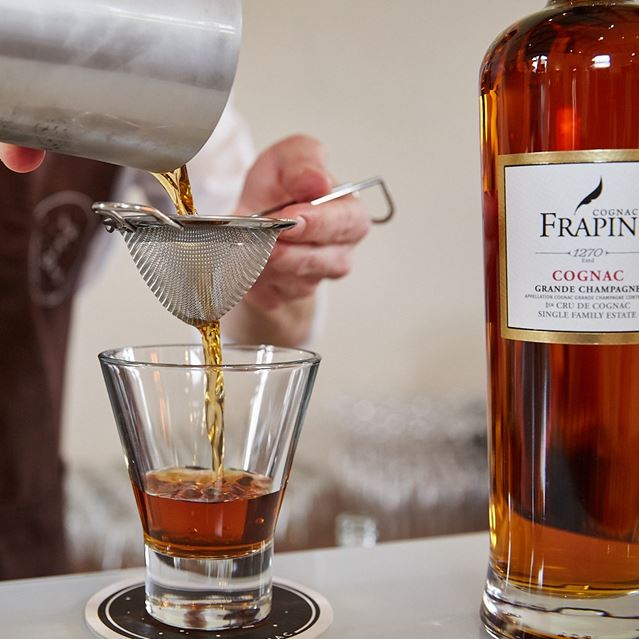 With the Cognac Show 2019 just a week away, The Whisky Exchange has had a rifle around to find Cognac cocktails, old and new, that we think are worth trying.
Between the sheets
This cheekily-named cocktail has a slightly murky history, with different versions of its origin floating around the drinks world, but we do know for certain that it was created in America during the Prohibition. The bigger, badder cousin of the Sidecar – a combination of Cognac, triple sec and lemon juice – Between the Sheets adds rum to create an interesting, characterful drink that showcases the rebellious attitude towards cocktail-making during Prohibition.
This cocktail works really well with lighter, fruitier Cognacs and clean, crisp rums, so why not try using Plantation 3 Stars Silver Rum and Pierre Ferrand 1840 Cognac, both blended by Pierre Ferrand Cellar Master Alexandre Gabriel – who will be at Cognac Show 2019. The delicate, fruity flavours of this Cognac really shine through in cocktails, with a gentle citrus edge that works well with the herbal, grassy character of this Caribbean rum. Continuing along this French theme, Pierre Ferrand Dry Curacao Triple Sec makes a great addition thanks to its rich citrus flavour.
Ingredients:

30ml Cognac
30ml white rum
30ml triple Sec
teaspoon of fresh lemon juice

Method:

Add all of the ingredients to a cocktail shaker, alongside liberal amount of ice, and shake well. Strain into a chilled Martini glass and garnish with a twist of orange.
French Connection
This smooth, sexy simple cocktail is packed full of flavour, style and French charm. The French Connection is made with only two ingredients and served over ice – effortlessly cool and delightful to drink, it makes a great aperitif.
Amaretto has such a rich, spiced flavour that the Cognac you use needs to stand up to that – so look for one with richer, woodier flavours. A VSOP Cognac has spent a little bit more time aging in oak than a VS Cognac, so it develops bolder, deeper flavours that will be perfect here. Remy Martin VSOP Mature Cask Finish is a good one to try here as it's full of rich, elegant oaky flavours that will stand up against a good amaretto – such as Saliza Amaretto Liqueur.
Ingredients:

45ml Cognac
25ml Amaretto

Method:

Pour the ingredients into a tumbler alongside a large ice cube. Stir gently and enjoy. It's as simple as that.
Spitfire
Among the most popular cocktails available at last year's Cognac Show, the Spitfire was created in 2006 by Bar Luciole. Located in the heart of France's Cognac region, by the Charente river, Bar Luciole has a fantastic team who showcase why Cognac is the perfect spirit to use in their range of classic and modern cocktails. Long and refreshing, this Spitfire cocktail is perfect for drinking in spring or summer.
Ingredients:

30ml H by Hine VSOP Cognac
30ml crème de peches
15ml Sugar syrup
Teaspoon of lemon juice
75ml white wine

Method:

Pour the Cognac, crème de peches, lemon juice and sugar syrup into a cocktail shaker, alongside a few ice cubes. Shake well and strain into a chilled highball, then top up with white wine.
Walnut Sour
Once again, the bar at the Cognac Show this year will be manned by the lovely folks from Bar Luciole, and this time they've brought with them another of their delicious creations – the Walnut Sour.
At the show, Martell will make this cocktail with their VSOP, but we love this cocktail with Martell Blue Swift. Made by finishing Martell's popular VSOP Cognac in ex-bourbon barrels, this creates a layer of aromatic, spicy flavours alongside the characteristic candied fruit and plum notes of Martell. As Cognac must be aged solely in French oak, Blue Swift is classed instead as an eau-de-vie, but it definitely earns its place among these Cognac cocktails.
Ingredients:

30ml Martell VSOP or Blue Swift
30ml Francois Voyer Pineau des Charentes Blanc
20ml sugar syrup
20ml lemon juice
Three dashes walnut bitters

Method:

Pour the sugar syrup and walnut bitters into a chilled mixing glass, stir together gently, then add in a couple of ice cubes and half of the Cognac and stir until chilled. Add the rest of the ingredients, as well as a couple of extra ice cubes, and stir again. To serve, strain into a chilled rocks glass and enjoy.
Read this article on The Whisky Exchange blog here.