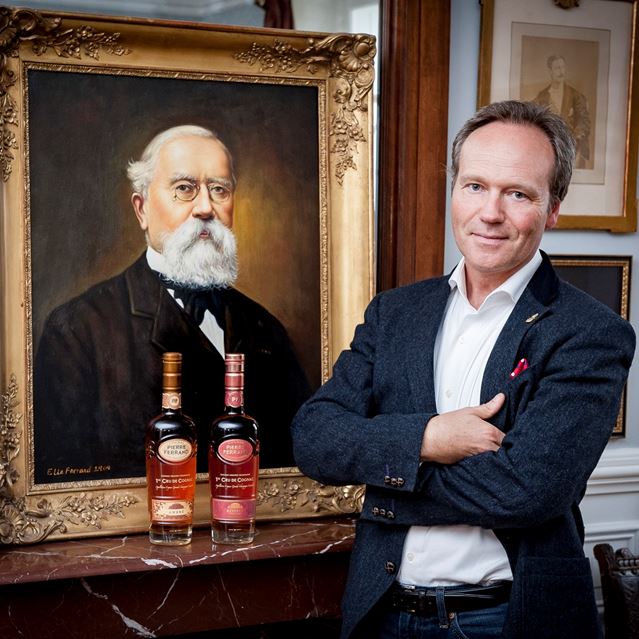 In the lead up to Cognac Show, we spoke with the man of Ferrand Cognac himself, Alexandre Gabriel. An expert in the category, a passionate producer of France's finest spirit and a 'creator of emotions,' see what Alexandre has to say about the show, cognac and its future.

Q: This is the second year of Cognac Show, why is it so important that this now exists and why do you think there's an increasing interest in cognac?
AG: This show is incredibly important as it reflects the surge in interest in cognac in the UK.
People are now increasingly interested in spirits that are unique, authentic and have a strong provenance behind them. This is what Cognac is all about, having true character and a rich heritage.

Q: How would you describe cognac to someone who is new to the category/a novice/beginner?
AG: Cognac is made from grapes, a fruit that's incredibly versatile to work with, allowing you to create fascinating layers of taste and flavours. It different from all the grain-based spirits that have been dominating the market for some time. I like to say that a great cognac is the soul of wine, transcended by distillation and aging.
Cognac is also a deeply rooted terroir spirit with a strong sense of provenance resulting in a truly beautiful, rich and balanced taste experience.
What also makes cognac so different from any other spirit is the art of ageing and blending to create a memorable spirit - tasting every cask frequently and instigating small changes as needed — perhaps moving the spirit between casks or even casks between cellars. It's a very specific process that required time and patience called "élevage".

Q: How would you describe cognac in three words?
- Rooted in centuries of tradition (Heritage)
- True expression of great terroir (Terroir)
- A product with character, which stands out. Different, memorable.

Q: What new products are you bringing to the show this year?
We are bringing our new baby, The "Sélection des Anges" an exceptional Premier Cru de Cognac blended from a select few extra-old Ferrand barrels.
What makes S.D.A. so unique is the humidity level of the cellar it is aged in, which favours a greater evaporation of the harsher alcohol present in the barrels. Therefore The S.D.A. offers a uniquely sophisticated, mellow flavour profile thanks to the angels' share.

Q: What are your thoughts on the new stream of products versus the more established, older brands?
Cognac is a spirit rooted in history, having a lengthy heritage as far as quality is concerned. In the old days cognac was often produced by visionaries who showcased their take and their vision on this one-of-a-kind spirit. We believe that we are experiencing a renaissance of this wonderful time. At Ferrand, we are passionate about creating distinctive cognacs that draw from these old and rich technical traditions. For instance we have been replanting Colombard grapes, a native variety from the Cognac region, which make delicious, elegant and aromatic cognacs. The yield is often lower and, on a frost year, you may lose your entire production (and your income!), but we think this risk is worth it.
It's been established that in the old days cognac producers used barrels from nearby French wine regions. It has been done for centuries, yet that technique was forgotten in the past few decades. For the past 10 years, we have worked on reviving this tradition and have launched Ferrand Réserve Double Casks and Ferrand 10 Générations which use these ancients techniques.
Long ago, in the 19th century, cognac producers such as Elie Ferrand (8th generation) used a variety of casks to create a fascinating range of tastes and complexities. In order to revive this forgotten method, we age Ferrand Réserve Double Casks in classic cognac barrels first and then in Banyuls barrels. This ancient technique creates a one-of-a-kind cognac that highlights the myriad nuances of the legendary "Rancio Charentais" with aromas of nuts, prune and spice. Ferrand 10 Générations is aged in French oak casks, 20% of which are Sauterne Barrels, in humid cellars that enhance roundness.
In the old days cognac was also sometimes aged in barrels made from different types of woods not just oak, such as chestnut and acacia. In fact, there was quite a rich culture and knowledge about this particular know-how and it was specific to the barrel makers of the cognac region. Unfortunately, since 1945 this is no longer allowed, however we think that exploring these old techniques is fascinating and allows the production of beautiful eaux-de-vies. We have been recreating these historic gems and have launched them as a very limited edition called the Renegade Barrel. Our Ferrand Renegade N°2 is aged in a chestnut barrel and it is delicious. Cognac that has been aged that long can no longer be called cognac, according to current regulation. Whilst we think that it is a shame, I must say that we are not the only ones to be excited about this non-oak ageing revival, since our 20 barrels edition sold out in less than one week.

"I feel that too many of France's gastronomic treasures are in danger of disappearing and I don't want France's great spirits to be among them." - Alexandre Gabriel
Alexandre Gabriel will be at Cognac Show this April. Be sure to visit the Ferrand Cognac stand and meet the maker himself.